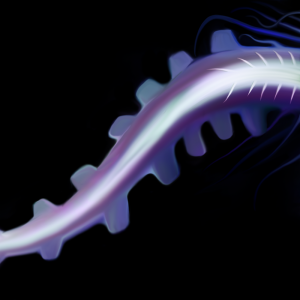 Today I spent some time adding some details to this creature (it's clearly a creature now, and not just an abstract painting anymore!), cleaning up a lot of the lines so I can define some actual shapes. I think I'm going to add some extra canvas onto the right side so I can give it a head. It will definitely be fish-like when I'm through with it.
Two days remain! I don't have a whole lot to say today, so I'll keep relatively quiet and try to make today's writing short and to the point.
I just did the math and discovered that my final day will be two days from now, on Saturday. That's the same day I'm having the celebration with my friends and family. For some reason I was thinking that it was going to be the day after. I went back a little ways to see if I skipped a day, for whatever reason, but everything seemed to be in order. So, looks like we will literally be celebrating my very last day! That's pretty cool and all, but my final post is going to be an insanely epic one, so I'll have to put a lot of work in early on in the day, and then try to finish up in time for the party.
I've also been thinking about doing some kind of collage with all of my artwork from the past year, but that would indeed take forever. Also, I wouldn't really consider something like that art exactly. I've been racking my brains trying to figure it out. Perhaps I don't need to do anything special for the last piece of artwork I post on here. I'll just finish up this fish thing by Saturday. That should suffice.
----------------------------------------------

Help support my creative habit by liking, sharing, or commenting on my posts! Visit me on the Facebooks! Or, if you like, click right here! to help support me and my creative habit financially. Any and all assistance is greatly appreciated! 🙂