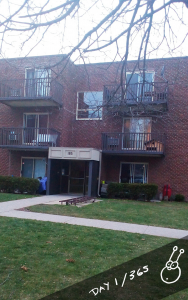 Welcome to my Year of Creative Habits for 2017! This is the first day of 365 in a row, where I'll be posting yet another image (and writing about it!) every single day throughout 2017. Last time was all about my artwork and getting a running start as I decided to become a full-time artist, this time it's focused on photography. As you can see though, I'm still going to include a little bit of artwork into each photograph. On every image this year I'm going to draw a little cartoon character 🙂
I'm still a little undecided about whether that stripe in the corner of every photograph is a good idea though. I don't want to cover up every single photograph I take. Once I finish this post I'll ponder on it a little bit more and see how I feel about it. Maybe it should be smaller, or maybe I should just get rid of it altogether! I really want to draw a little cartoon character on each and every photo this year though. What do you think about it?
The photograph itself is a picture of where I have my quiet little life. I live in this apartment building, inside that front door there, and down the hall just a couple doors to the left. I wanted to take this photo and start out this year long project with it because this is my headquarters. This is my starting point when I go out in any direction to find something (hopefully) interesting to take pictures of.
Lastly, I feel I should mention that this is a bit of a crappy tablet camera that I currently use for this project. A new camera should be coming within the next week or so, and I couldn't be more excited. I've never owned a proper camera before despite always wanting one. Every time I'm out and about I find things I wish I could take pictures of, and I guess I just never wanted one quite bad enough, eh?
Happy New Year! Here's to a fantastic and creative 2017 🙂
----------------------------------------------

Help support my creative habit by liking, sharing, or commenting on my posts! Visit me on the Facebooks! Or, if you like, click right here! to help support me and my creative habit financially. Any and all assistance is greatly appreciated! 🙂