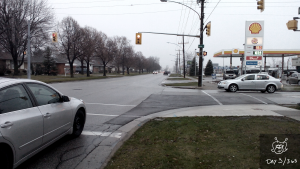 Happy Tuesday! Geez, I actually had to double check after I wrote that to make sure it's actually a Tuesday.
I feel that my photo is kind of boring today, but that's just what kind of day we're having over here; dark, foggy, and wet. But I figure if I'm going to be doing this every single day, there's going to be some not so special days in there for sure. That all being said, I bet this picture is a little more interesting to people that don't see this view everyday. And even on the darkest days I should be able to find something interesting worth photographing.
Plus, new camera soon!
If you'd like to see some different versions of the photos I've been taking, follow me on Instagram! They also go up automagically on my Pinterest if you'd rather check that out. Thanks!