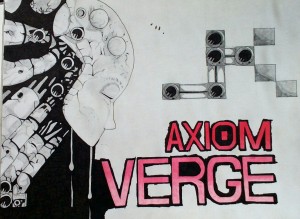 Here's a brief update from me for today. I have company over so I'm not really able to concentrate enough to write anything significantly awesome. So, here's how far I've got on my Axiom Verge fan art. The color you see here is the only color that's going to be in this picture. So all I have left to do is continue to fill in all of the background with black ink.
Tomorrow's artwork will likely be just more black filled in, which is fine. I knew this picture was going to take a long time to finish, mainly because of that black background. There's quite a lot to fill in, but I think it's going to look fantastic when it's completed.
The weather's been fantastic, and I'm feeling pretty good right now while everything lately seems to be heading in a good direction. I'm going to continue thinking positively as I'm looking ahead and working hard to reach my goals. Leave a comment, like my page on the Facebooks, help me out if you can! I really appreciate it!
----------------------------------------------

Help support my creative habit by liking, sharing, or commenting on my posts! Visit me on the Facebooks! Or, if you like, click right here! to help support me and my creative habit financially. Any and all assistance is greatly appreciated! 🙂