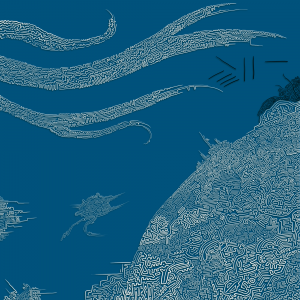 It's really crazy how many times this picture has changed. Now I'm working on filling the entire background with those black patterns. Maybe even adding some more color to the picture by filling in different sections with maybe yellow and red. Not entirely sure how that's going to go down quite yet, but I'm hoping it looks alright. So far I'm happy with how it's turning out. Though I didn't get a whole lot of this done today. 
I haven't had a whole lot of time to work on this today. I was out the door almost as soon as I got up today as I had some errands to run. Then once I returned home I decided that I should eat something, and then I had some company over. Now I have about 10 minutes to get this post up and shared around the Interwebs for consumption because I have the rest of the evening to hang out with someone else. It's nice having so much going on, but only for a day or so. Tomorrow I expect I'll spend a lot of time trying to get this picture finished up before the weekend.
The reason I want to finish this before the weekend is because it's the Electronic Entertainment Expo, or E3, and there will be a whole lot of new video games announced and showed off throughout the weekend. I would really like to get doing some related artwork in order to make an attempt at getting some extra traffic to my blog. I figure if I start doing some No Man's Sky artwork, and they talk about it at the show, then that should help get some new viewers.
Even if things don't work out that way, it's always a good idea to try. Besides, I really want to get back to designing some science fiction alien planets! I can't ever get enough of that.
----------------------------------------------

Help support my creative habit by liking, sharing, or commenting on my posts! Visit me on the Facebooks! Or, if you like, click right here! to help support me and my creative habit financially. Any and all assistance is greatly appreciated! 🙂