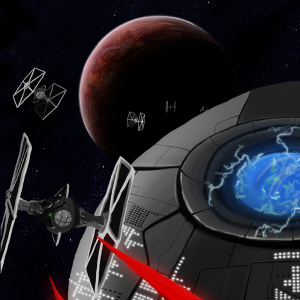 Now I feel that the scene is starting to really come together. I'm starting to think that I should of tried to paint Pluto in the background there, but I'm not going to redraw it. Not to mention that in the Star Wars universe, it's obviously not set in our galaxy. I just think it would of been a bit timely to throw Pluto in there, and I wish I would of thought of it earlier on today.
There's still a whole bunch of small details I have left to do, and I'm assuming I'll finish all of that up by tomorrow. Let's see… I have to add more white windows to the sphere, as well as the dark ones. Maybe figure out a few more interesting ideas as well, because I'm feeling that it's a little bland at the moment. I've toyed around with a few ideas over the past few days but I ended up going with the somewhat traditional looking Death Star.
Oh! I just got a really neat idea. I could zoom the camera out a little bit more and put in a first person cockpit view that surrounds the edges of the screen. Don't hold me to this though, because I'm still working through the idea. But the viewpoint that we already have here looks a bit like what you would see if the enemy fighter ships were attacking you, the player.
What do you think? I'm seriously considering this now, and I'm pretty confident that I could pull off a really cool cockpit view.
Also, end note: Should I change the blue energy/orb to green? It should be green, no?
----------------------------------------------

Help support my creative habit by liking, sharing, or commenting on my posts! Visit me on the Facebooks! Or, if you like, click right here! to help support me and my creative habit financially. Any and all assistance is greatly appreciated! 🙂