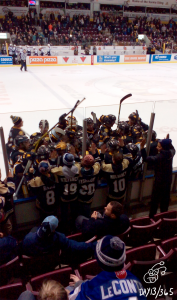 Holy moly do I love hockey. It's the perfect game, and I am completely at a loss for words on how to describe this properly! Nothing could have been any better tonight. This game is beautiful, and I wish more people I knew appreciated it the way I do.
I was lucky enough to go to a local hockey game tonight with our Sarnia Sting taking on the Windsor Spitfires. These are junior Ontario teams full of talented kids that can do some amazing things on the ice. There were a few moments where – from my view up in the stands – I felt like I knew how a play was going to unfold, only to have a couple star players make passes to other players through a maze of feet while speeding by. I have no idea how they were able to predict things in their first person view point. It was truly astonishing.
The crowd was overflowing with children cheering and booing throughout the entire thing, and that was really awesome to see. As you see in the photo above, my local team won with the kids in the crowd cheering with the team against the glass there. It really was something.
The game went back and forth, and there was a point at the end of the game where we were down 3 goals. Half the crowd left to get ahead of the traffic, assuming their team lost. We didn't move though. I even mentioned that I've always wanted to be at a hockey game where the home team was down, and the crowd gave up on them and was leaving, but I stuck with it. Only to have the home team come back and tie the game. I literally said that a minute before I saw the whole thing actually unfold on the ice. They scored 3 goals in just a few minutes to get it to overtime play. Then, on a breakaway moments after a missed call against the away team, we scored.
It's something I won't soon forget, and it's cool (despite the low quality) that I'm taking these pictures to capture this particular moment right after the winning goal.
----------------------------------------------

Help support my creative habit by liking, sharing, or commenting on my posts! Visit me on the Facebooks! Or, if you like, click right here! to help support me and my creative habit financially. Any and all assistance is greatly appreciated! 🙂