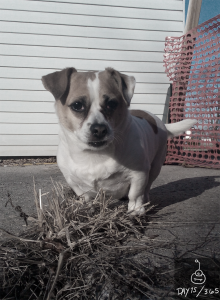 Hey, everyone. It's Chloe!
I was at my sisters for a spaghetti dinner tonight, and decided to take my tablet and get a few pictures for the day. She owns two dogs (and a cat) and this here is Chloe. She's pretty small, so I made sure to get the camera down on her level. She was a whole lot easier to take a picture of than the rest of the animals there. She's very patient, and also listens quite well.
I decided to take most of the saturation away from the image because that plastic fence on the right (to keep the animals in the yard and away from the driveway) was just so red, it was a major distraction in the photo. I wanted to keep just a touch of Chloe's brown fur though, so I think I mostly accomplished that.
I'm going to fiddle with it on Instagram, so come take a peek! Let me know what you think 🙂
----------------------------------------------

Help support my creative habit by liking, sharing, or commenting on my posts! Visit me on the Facebooks! Or, if you like, click right here! to help support me and my creative habit financially. Any and all assistance is greatly appreciated! 🙂