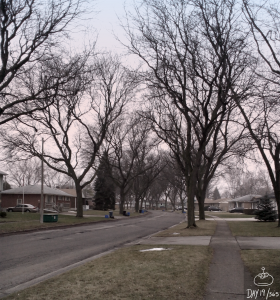 I had a moment today where I couldn't find anything interesting to shoot!
I walked a little ways and eventually I stopped and looked around. Not sure what it was exactly, but I felt I had to take a picture of this street. It's very likely the trees! I've only realized lately because of these pictures; but… I kinda feel like I live in a forest.
I'm also noticing that I'm doing more and more Photoshop edits to each and every picture. There's always a boring sky, or I don't like exactly how the grass looks around here, but I know there's a decent image in there somewhere. So it's nice to be able to use gradients, like how I added blue and red to the sky there, trying to make the darkness of the trees stand out.
I already cut a good chunk away from the bottom of the photo, and yet I still feel like I could have taken more. I wanted the trees to be the primary focus in this one and perhaps I could have tried to get more of the trees in there. Ah well, learning new stuff everyday.
Now for some Instagram fun!
----------------------------------------------

Help support my creative habit by liking, sharing, or commenting on my posts! Visit me on the Facebooks! Or, if you like, click right here! to help support me and my creative habit financially. Any and all assistance is greatly appreciated! 🙂