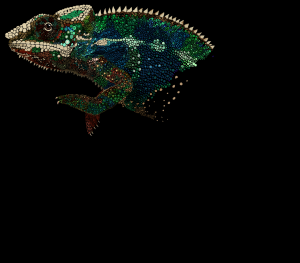 Hey look! It's that reptile again, and he's still looking quite spiffy. Even though there are a few spots here and there that I'm not overly happy with, I'm already planning on going back, after I finish with the body, and fiddling with a few of the details to get it looking just the way I want him to. That's the current plan anyways.
There hasn't really been any progress on my Patreon page lately. So I don't have much to update. I'm holding onto my positivity though. On that same note though, I seem to be getting around on Twitter all of a sudden. I get about 3 or 4 new followers every day, and honestly not too sure why that's happening all of a sudden. I'll take it though!
That's one upliftingly positive thing I can be sure of, there should always be room to grow. I can continue to work hard and put up new content every day and I seem to just continue to expand in various different ways. Lately it's been through Twitter, tomorrow could be something else entirely. I believe the only thing that could… hmmm, no. You know what? I was trying to think of a way to basically say, "The only thing that could stop me, is if I'm unsuccessful and have nowhere else to grow." However, there will always be new things to learn, ways to grow (new social media start ups happen all the time, for one example), and new types of content for me to create.
I want to make sure to get this written down to maybe help keep myself thinking positively as I go along; even if I'm doing this for another several years and I'm still not finding solid and reliable ways to build a career with my artwork, the only thing that can stop me from achieving this is if I make the decision to just stop what I'm doing. Not to mention that there's no way of knowing that the moment I stop working, my opportunity would of arisen shortly after giving up.
I've experienced enough in my life to know that even if I make the decision to slow down or take a step back, that will likely lead to a complete halt. It's happened to me before with a previous website. So there's no chance I'm taking any time off!
Alright, so with all of that written down and tucked away neatly into the blog archives, I'll just keep pushing onward. Knowing that the only thing that's a constant for tomorrow is that I'll be creating artwork and sharing it online.
----------------------------------------------

Help support my creative habit by liking, sharing, or commenting on my posts! Visit me on the Facebooks! Or, if you like, click right here! to help support me and my creative habit financially. Any and all assistance is greatly appreciated! 🙂