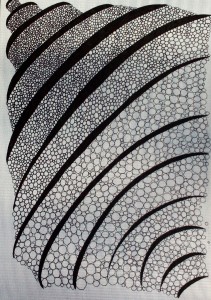 I was prepared to continue to express my Internet service woes, as well as how cold the weather has suddenly become the last few days. However, today turned out to be a beautiful day for a long walk while I ran an errand, and though I was having Internet problems, right at this moment I'm thankful that everything seems to be running smoothly again.
I finished this drawing! It turned out quite awesome, though in reality, it doesn't stand out all that much. I'm sure if I designed an interesting color scheme for it then it would attract the eye a lot more. However, I'm going to continue moving forward with new projects as often as I can. Preferably every single day. During my walk today I saw some interesting design downtown that I'm going to start working on tonight, actually. So that will go up tomorrow, hopefully as a finished piece too.
Another interesting thing that happened today is when I was reading this blog post from Crystal, she talked a little about long term projects. She even suggested a theme that could potentially take an entire 365 days. So, that got me thinking that maybe it would be a great idea to do a "cosmos" themed Year of Creative Habits after this one. Just a thought. What do you think? "cosmos" could cover all kinds of different topics.
I think it would be a lot easier for people to find my work if the vast majority of it was related to outer space and science fiction. They might be looking for something related to nebulae, and end up on my site. Then after they may notice that I have a lot of artwork related to the original subject matter and stick around for a little while. It's an interesting idea, but sticking to a single theme would be an even bigger commitment than what I'm currently doing.
----------------------------------------------

Help support my creative habit by liking, sharing, or commenting on my posts! Visit me on the Facebooks! Or, if you like, click right here! to help support me and my creative habit financially. Any and all assistance is greatly appreciated! 🙂