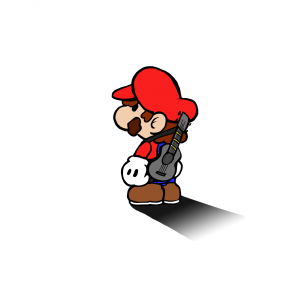 Well, here's Ukulele Mario. This image is 2000 x 2000 but Mario's a bit smaller, and right in the center of the page. I feel the white space emphasizes that he's on a stage of some sort. Bright lights, and all that. Perhaps not literal lights, but that was feel I wanted to present. So this image might be a moment before he reaches back for his Ukulele and entertains a crowd by flawlessly playing Imagine by John Lennon.
So, this Ukulele Mario came about because a cousin of mine (Hello, Eric) asked me to do this probably about a year ago. It was perhaps somewhere around when I started my Year of Creative Habits. I kept thinking about drawing it, but I never really felt confident that I would do it justice. Today was the very first time where I really noticed how far I've come since I started this year long project.
Eric mentioned, in a bit of an off-handed way, that he's still waiting for his ukulele Mario picture. I was actually staring at a blank Photoshop canvas when he mentioned that, and right away I was all like, "Hey, I can do that!" and within an hour he was finished.
Throughout this project I've been keeping up with other artists going through their own Year of Creative Habits, and some of the time their articles are about how much they've changed, and how they've grown as an artist. I've kind of gone along with it and I've written my own articles about how much experience I've gained, and how much I've learned. Though, it wasn't until today that I realized how much more confident I am in my abilities compared to last summer.
This Mario looks good! I really don't believe I could of done a better job. Of course, there are always nitpicky type things that I could edit or fiddle around with, but right as he is right now, he's perfect. Because I made him.
(Unless there's something wrong with that Ukulele, Eric… is there anything off with that ukulele?)
----------------------------------------------

Help support my creative habit by liking, sharing, or commenting on my posts! Visit me on the Facebooks! Or, if you like, click right here! to help support me and my creative habit financially. Any and all assistance is greatly appreciated! 🙂