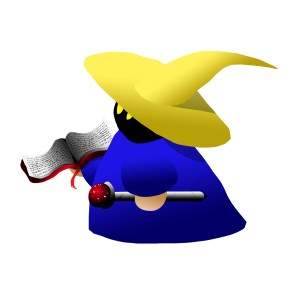 I actually have a few different things to share today. I was messing around with some gradients in Photoshop and fairly quickly threw together this Final Fantasy style wizard. To start off though, I also wanted to try some interesting text techniques with a couple of my previous space drawings. I've honestly never really used the "masking" option in Photoshop before, but now I think I'll try to use it more often.
I think my wizard turned out alright. The hat and clothing certainly needs some texture, but overall I'm quite happy with him. He's a little on the chunky side, but I like that too! I'm tempted to get started on drawing a library for him to hang out in.
Oh, so here's some of the text I did. This was originally all I was going to share today, but then I got the idea for the black wizard. Once I got started on it I had to finish it, and then it became the main thing I wanted to share today. Just showing off the text effects wouldn't of been all that interesting really.
Anyways, that's going to be it for me today. It's a beautiful day outside and I suddenly have an itch to get out there before the sun goes down. I hope everyone's having a fantastic Thursday!
----------------------------------------------

Help support my creative habit by liking, sharing, or commenting on my posts! Visit me on the Facebooks! Or, if you like, click right here! to help support me and my creative habit financially. Any and all assistance is greatly appreciated! 🙂