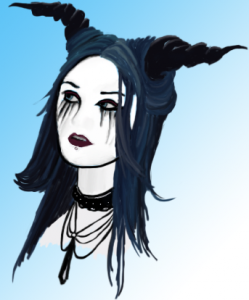 I've had a photograph of a woman in a snowy forest on my HDD for awhile now, and I finally got around to painting her. Here's the photographer's Pinterest page, with the original photograph present a little ways down the page, and you can see she does all kinds of fantastic fantasy style photography. I think my digital painting turned out pretty excellent, considering that I never ever draw people.
I've been working on a schedule for a few days now, and I think it's now time to share it with you. Well, it's a little bit all over the place, but I found some balance… actually, rather than try to explain what I'm attempting to do with this blog post schedule, I'll just copy and paste what I have and share it in full.
—————————-
Monday (#MondayBlues)
– Real life sketch day. Something quick. On real paper. No color, just pen/pencil randomness
– Read up on pencil/pen techniques and discuss. Real life art.
Tuesday (#TransformationTuesday #TakeMeBackTuesday)
– Abstract Photoshop painting. Do something wacky, maybe colorful.
– Spend some time exercising more than you usually do
Wednesday (#WellnessWednesday #WayBackWednesday #WisdomWednesday)
– Draw some nature. Trees? Beaches? Birds? Either on real paper or digital.
– More time exercising. Eat something extra healthy.
Thursday (#ThrowbackThursday)
– Take something old and make it new again.
– Play old video games. Get inspired.
Friday (#FridayNight #FridayReads #FlashbackFriday)
– Use this time to work on unfinished projects, or start a project that could take a few weeks to finish
– Spend time every single Friday reading something and talking about it
Saturday
– Do something, anything, that was inspired by another artist. Give shout outs.
Sunday
– Do whatever you want, as far as art is concerned!
—————————-
So, that makes Saturday a day where I find something that inspires me, made by another artist, and do something interesting with it. I also want to make sure I'm giving the sole credit to the original artists as well. I'm also thinking that it doesn't always have to literally be something from another artist. I have some images from NASA that I want to paint sometime too, so that should be pretty interesting.
All right, so there's the schedule I'll be using for this website, however… it's still early and I'll probably edit it a bit as time goes on. It was made for my reference, so keep that in mind.
Oh yeah, to finish this post off I should mention that the book I started yesterday "Console Wars: Sega, Nintendo, and the Battle that Defined a Generation", has been quite good. I read for a couple hours last night and it kept my interest. So that's what I'll be reading for the next few weeks, I imagine.
So, as far as my schedule goes, what do you think? Can you think of anything I'm leaving out? Or any other thoughts?
----------------------------------------------

Help support my creative habit by liking, sharing, or commenting on my posts! Visit me on the Facebooks! Or, if you like, click right here! to help support me and my creative habit financially. Any and all assistance is greatly appreciated! 🙂