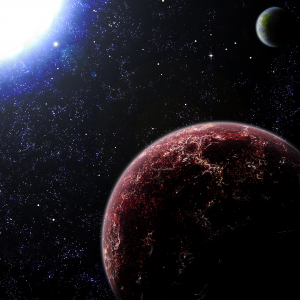 This digital painting wasn't originally intended to be a work in progress, but I spent a few more hours touching it up today. What a difference! I really think this is a picture I would like to have printed out in nice glossy paper, and maybe framed or something. Anyone out there interested in buying some copies? Just wondering… I might be on to something here.
I think painting space scenes is what I enjoy the most out of everything I've ever done. Let me list the reasons:
It's abstract. In it's own way
There's plenty of character and emotion
There's no limit to the colors you can use
Aliens, spaceships, and unexplainable things? Yes please
I can add an insane amount of detail, while using massive resolution
I'm sure I could go on and on but you get the picture. I'm not sure if I could pull it off as realistically as the scene I made today (and yesterday), but I would love to draw some asteroids and comets. They usually have wacky shapes, so there's no using the Spherize tool (that's what I use to make planets round) so that would be a challenge. I love what something like the Rosetta comet looks like, and I've wanted to draw it for some time actually.
----------------------------------------------

Help support my creative habit by liking, sharing, or commenting on my posts! Visit me on the Facebooks! Or, if you like, click right here! to help support me and my creative habit financially. Any and all assistance is greatly appreciated! 🙂