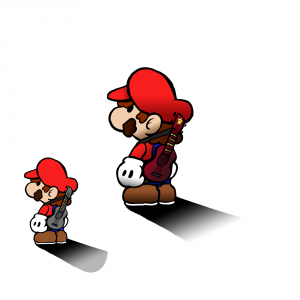 Alright, Ukulele Mario is finished. I was going to draw that background that I started yesterday, but it wasn't really turning out and so I added more detail to Mario himself today. I think he looks pretty fantastic, and a vast improvement over the original version. It was suggested to me the other day to try a maroon colored ukulele, mellow out the yellow on the frets, and add a fourth one.
If anyone wants to get a t-shirt, a print, cell phone covers, or just about anything really, I have a couple places where that's possible. You can go to RedBubble, whom I've been dealing with for awhile now. Or you can visit ArtPal and they'll do higher quality prints, if that's what you're looking for. Other than those places, Eric (the guy that suggested I do Ukulele Mario in the first place) has some ideas on how we can make our own shirts and sell them locally. We'll see how that turns out, but it looks like it's going to have a bit of an upfront cost that I'm not able to do right now.
So, for right now at least, if anyone wants something immediately, then they can order it now. My cousin Brad bought an awesome throw pillow case with some of my artwork on it a few months ago and that turned out really good quality. So I hope the rest of what RedBubble makes would be of similar quality.
I'm also in the process of setting up a Society6 shop!
----------------------------------------------

Help support my creative habit by liking, sharing, or commenting on my posts! Visit me on the Facebooks! Or, if you like, click right here! to help support me and my creative habit financially. Any and all assistance is greatly appreciated! 🙂