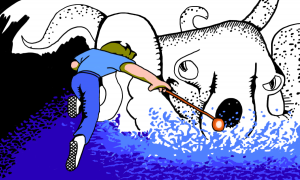 So, I'm officially set up on Patreon. I've mentioned Patreon a time or two before on this website, and I didn't think I was going to use it. Today though, I spent the day setting up my page, and making sure all the proper information was filled out to the best of my ability. It took a long time, but I think everything is in order. I decided to use it because of a very simple question, "Why not?". There really wasn't a good reason why I shouldn't try it out.
So, for those unsure of what Patreon is exactly, it's a service for artists of all kinds, where people can give money to them so they can continue to create. I have three different tiers set up for those wishing to help out.
– There's the $1/month range, where you get a shout out on Twitter, and you get included on a "Thank you" list on the front page of my website.
– $5/month gets you a shout out on Twitter, you get added to the "Thank you" list, and you get behind the scenes stuff on the process I take to create my artwork, and Full-size PSD versions of some of my drawings.
– Finally there's $10/month. You get all that's mentioned above, of course. But if you have anything you do creatively, like writing, photography, or drawing, I'll check it out and discuss it on my website on a daily post.
– Or you can just choose one of the amounts and select the option where you don't get any bonuses.
So, being completely new to all of this, I'm just fumbling along and hoping everything makes sense. I don't think I'll ever be comfortable asking people for money for my artwork, or in this case just to help out as I do my thing. That's likely because, throughout my 33 years (34 later this month actually) of life, despite actually having a wide range of employment, I've never made a lot of money. I've always had trouble finding work largely because of the getting paid part. As wacky as that likely sounds.
This past year has been all positive though. No more negative feelings! Or at least, they are much less frequent. I don't worry about employment, or giving my time away (Our most valuable resource!) helping massive companies succeed in making even more money. The time I have left on this Earth is going towards the people I care about, and even if I end up homeless in the end, I will be happy as long as I can continue to create! I'm stubborn like that.
----------------------------------------------

Help support my creative habit by liking, sharing, or commenting on my posts! Visit me on the Facebooks! Or, if you like, click right here! to help support me and my creative habit financially. Any and all assistance is greatly appreciated! 🙂