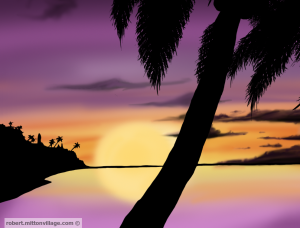 Today I did some painting! Photoshop painting mind you. The only painting I know anything about, actually. Even so, there was some extremely fun color blending and brush strokes, and I'm so very happy with how this is turning out. Those detailed clouds on the bottom right there, I love them so much.
I'm taking a break for now, and getting this post up and done so I have nothing else to do today (besides a hockey game to watch in a few hours) so I can get back to painting later on and not worry at all about this post. When I have things yet to be completed ahead of me, it's a bit of a distraction.
The only thing that's bothering me a little bit with this picture right now, is that the actual painted stuff is looking so good it's making the black silhouette stand out too much. I may have to look up how to quiet a painted silhouette so it doesn't jump out too much.
----------------------------------------------

Help support my creative habit by liking, sharing, or commenting on my posts! Visit me on the Facebooks! Or, if you like, click right here! to help support me and my creative habit financially. Any and all assistance is greatly appreciated! 🙂