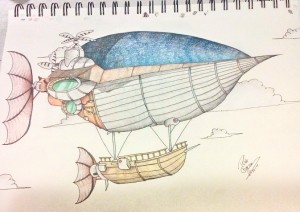 Today, I'm 100% finished with my Final Fantasy Airship. I love the colors I chose, and how I really tried to keep it simple and only use the source material as inspiration only. Yoshitaka Amano's original painting of this particular airship has an insane amount of detail with all the tiny metal gadgets and such on the hull. I tried to do my own thing and not replicate every single detail. I'm quite happy with how this turned out!
Thanks to my niece Emily, I decided to draw some of the sky. I was going to leave it as it was when the ship was finished, but she asked, "What about the sky?" So I added some clouds and was prepared to color in the entire page with a nice blue. I decided against the blue because not only would that take a very long time, but it could actually detract from how good it already looks. However, the clouds certainly add to the picture, making it feel more like a "scene" rather than just a picture of a flying vehicle.
I was reading some stuff online and came across an article on why you should post everything you do, not just the good stuff. Specifically, to post the bad stuff. I don't really remember the reasoning behind it, but it did sound like a fun idea. On my official fan page I think I'll create an album and upload all of the work I keep to myself. All the unfinished and unloved pieces. It might be pretty cool. Some of it will be old stuff from when I was inexperienced, and some of it might be ideas that I never did follow through with, but at least got the project started. I'm interested in seeing what people's reactions to some of it might be. Should be a fun experiment!
----------------------------------------------

Help support my creative habit by liking, sharing, or commenting on my posts! Visit me on the Facebooks! Or, if you like, click right here! to help support me and my creative habit financially. Any and all assistance is greatly appreciated! 🙂