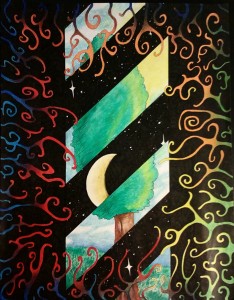 All finished. Because I waited too long to get started today, I had to take this photo under artificial light. If I think I can make it look better tomorrow, I'll put the time in to do that. It's bugging me that it looks, as usual, way better on the actual paper. However, I'm ready to move onto something new.
I've already begun working on my next project. As I've mentioned a few times, it'll be something I create using Photoshop. I'm going to try and reproduce some of the features of the drawing I've been working on. It's still in the early stages so far, as you can see in the screenshot at the bottom of this post. I'm already noticing that it's taking me a little bit of time to adjust to doing digital again, since I've been working on real paper with pencils and pens for over a week now.
One thing, as far as this new drawing is concerned, is that I'm going to use outer space once again. I'm seriously considering having the two opposing slices being a planet in outer space, with the other parts being the planet on the surface.
Personally, I think that's a pretty ambitious drawing for me. Probably over ambitious. Whether I succeed or fail at it though, one thing is for sure; I'll learn something new in the process! I'm going into this project with a lot of questions on how I'm going to paint it all properly. I see it all a particular way in my mind, I just need to put the time and effort in to get it finished.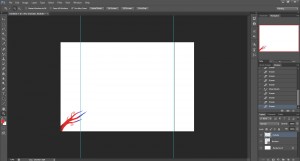 ----------------------------------------------

Help support my creative habit by liking, sharing, or commenting on my posts! Visit me on the Facebooks! Or, if you like, click right here! to help support me and my creative habit financially. Any and all assistance is greatly appreciated! 🙂