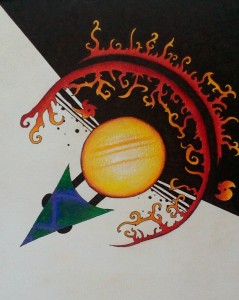 It's strange, as well as comforting, to use this blog as a place where I can be completely honest. After spending hours posting my paintings in online shops and galleries, and trying to come up with interesting stories for each piece of art, it's pretty exhausting. I don't make any of the stories up, but I do have to consider exactly how talk about them.
With my blog, it's mostly a different story. On here, I can just write almost exactly as I would speak in real life.
"Here's a drawing I did! I really don't know what it is. Those colors kinda make me feel like I'm on acid though. I'm guessing acid would be like that…"
It's not all dumb stuff (I don't even think I use the word "stuff" anywhere else) on here, but I don't spend hardly any time planning out what I'm going to talk about beforehand. There are a few points I like to hit as often as I can though;
What was the process like for drawing today?
How did it turn out?
Did anything inspire me?
What's next?
I might be forgetting some topics, but that's the gist of it. I think you'll be hard pressed to find a single post that doesn't hit at least a couple of these important points. I've never considered myself very good at writing, especially when it comes to talking about myself and my work, but hitting those points helps make it quite a bit easier to do every day.
Going back to talking about my artwork for a second; writing on here, where its all fun and casual, feels vastly different from posting my work on an online art gallery where complete strangers can view and purchase it. I want them to read about why I made an individual piece of artwork, what tools I used, and go into detail about it's overall history and, if I can properly put it into words, why it even exists in the first place.
I'm a slave to my passion, and I feel secure in knowing that I have many options available for not only showing and talking about my artwork, but hopefully selling it, and making a living at this someday.
----------------------------------------------

Help support my creative habit by liking, sharing, or commenting on my posts! Visit me on the Facebooks! Or, if you like, click right here! to help support me and my creative habit financially. Any and all assistance is greatly appreciated! 🙂