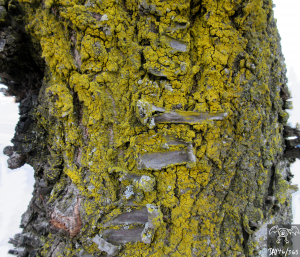 At first I was going to use the photographs I took of the Galaga machine this afternoon at the laundromat, but I messed up. I realized afterwards (but while I was still out walking around the city) that I had accidentally had my camera in night mode. As I was browsing my previous shots I noticed that they were all wrong; way too bright and some of them were very blurry. I checked my options and saw that night mode was turned on. I'm a dumb face.
So, rather than back tracking and doing those pictures over again, I decided to try some other stuff. More trees. So I took a few photos of some moss on a tree and boy… that sure turned out pretty good!
Am I nuts, or does that look ridiculously good? What an improvement over the tech I was using just a few days ago. This camera is miles ahead of what I'm used to. It's no professional grade camera, but it's easily all I'm going to need to last me the rest of the year. I'm sure of that!
What do you think?