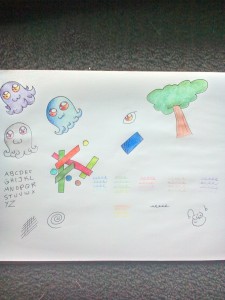 Well, this kind of sucks. I went out last night to grab some nice black gel pens to ink my sketches, and the pens don't really do any of the things I wanted them to do. I can't use them to ink over pencil because they stop working almost right away, like any regular ball point pen. I only used the pen over a 2H octo-guy drawing a couple of times, and now the pen doesn't produce consistent ink trails. Quite annoying. Also, the ink globs at certain points (Pretty sure it's because I had to go back and ink again in spots) and so it smeared in a few places. My pencils also pick up some of the ink and that produces small black marks.
Sigh! Not happy with my purchase. Perhaps next I should try felt tipped pens. I'll maybe do some research before I get more. Also, I completely forgot to look for different kinds of drawing paper while I was out last night. I think my paper still needs an upgrade.
I'm going away this weekend, so starting tomorrow I'm going to have to do my drawing wherever I am. Then get a net connection and post it. I probably won't be writing all that much while I'm away. We'll see though. Camping! And partying. Drinking. Sleeping. This is going to be a challenge me thinks.