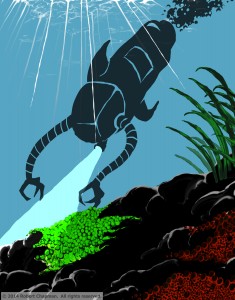 Continuing with my underwater painting, I went ahead and added some green and red barnacle looking things. I think the red ones look alright, but the green ones though, they could use a little work. Not exactly sure what changes needs to be made, but something to help make them look more natural. Or maybe it's just me. I dunno. Geez, is it ever hard to make an underwater scene look alien-like! No matter what planet you're on, Earth or wherever, it all looks alien-like!
There's also the obvious sub in the middle there. It's just a placeholder. Well, it was supposed to be just a placeholder. I kind of got carried away and I kept on adding more and more details. Part of me wants to leave it all as it is and call it a finished product, but I think I could pull off a decent machinery design so I'll keep pressing on. For one more day at least.
Everything is shaping up nicely. Seems everything I'm creating lately is turning out wonderful. Oh! Not to mention that I got asked to do an interview yesterday for a blog. Not just any blog though, Crystal Moody's blog. The blog that got me inspired to start my Year of Creative Habits in the first place. I wouldn't of even thought to do something like this if it wasn't for her. So it's a little bit surreal that she wants to interview me. I believe she said for an "artist of the month" type of thing. I'm currently in the process of answering some questions about myself, and my artwork. Pretty cool!
So much has happened this year, it's all kind of unbelievable.
----------------------------------------------

Help support my creative habit by liking, sharing, or commenting on my posts! Visit me on the Facebooks! Or, if you like, click right here! to help support me and my creative habit financially. Any and all assistance is greatly appreciated! 🙂