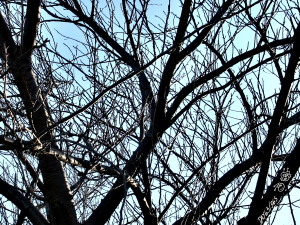 Howdy!
I hope you're having a decent Saturday. Mine has been pretty uneventful, but … sometimes that's an acceptable thing! I'm feeling content right now. I got to go out in the sunshine without worry, and take some photographs around my city. Despite the cold, the sun warmed my face and hands and taking photos was a pleasant experience today. Where most days where it's been cold this year, I've kind of felt rushed and I wouldn't always end up with decent photos at the end of the day. Decent by my standards, at least.
I had quite a few to choose from today, as far as those photos go, and I ended up choosing this one. I like the contrast between the light blue/white, and the dark branches of the tree. Everything feels like it has a nice balance. I had a couple photos today where you could see more of the detail in everything, and more of the tree in general, but that felt kind of "regular", boring even, if you will.
I think I've taken so many pictures of trees this year that I often look at my photos and think "Oh well that's pretty same old same old." I want to find shots of new and interesting things that I feel comfortable sharing with people. Today's photo doesn't exactly do anything new or unique at first glance, but I think it would make a cool picture on someone's wall. Maybe with an interesting pattern around it, and a nice frame.