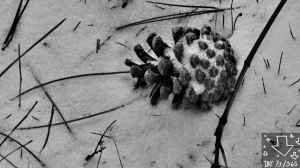 This photo is best viewed in full-screen as it holds an incredible amount of detail!
Today's shot is one of my favorites so far because – keeping in mind that I'm no expert – I feel this image has really great composition overall. As far as I can tell, at least. Of course the pine-cone is the main focus, but there's also a lot of other details going on, with not a lot of empty space.
The detail is pretty incredible when viewed in full, actually. And to be completely frank, I'm not even sure how I got this image. I took almost 50 photos when I was out there (yesterday), and it was so snowy and cold that for most of the time I wasn't able to see exactly what I was shooting. I was more worried about keeping the wet snow off my camera, then what I was taking pictures of.