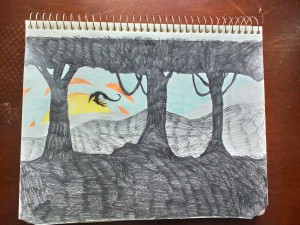 Here we are at day number 5! Once again, I was away from my apartment so I have another non-digital drawing. I brought my sketchpad and filled an entire piece of paper with pencil lead. I drew a few different things and this piece took the longest, and is the most interesting. The other drawings I decided to trash were basically like creatures. Or bits of creatures anyways. With this piece though, I didn't like the clearly visible overlap of where I was coloring everything in, but now it's kind of neat to see exactly where I shaded and the pattern is pretty neat.
I definitely got my inspiration from reading this interview here with another artist. I love her artwork. I've never worked with anything other than pencils, pens, and the digital stuffs. Her charcoal pieces are fantastic. I think everything has an eerie feel to it when it's done that way. It's just dark. I love it. I don't own any charcoal stuff, I just used some 8B pencils and tried my best to take my time, and keep my hands off the page! It's pretty messy stuff.
I think it'll be back to digital artwork for tomorrow. I want to do some more work on that lizard thing I drew yesterday. Maybe expand on it. Perhaps into a proper comic book panel or something. At least, that sounds really interesting! We'll see what I'm in the mood for tomorrow.
----------------------------------------------

Help support my creative habit by liking, sharing, or commenting on my posts! Visit me on the Facebooks! Or, if you like, click right here! to help support me and my creative habit financially. Any and all assistance is greatly appreciated! 🙂