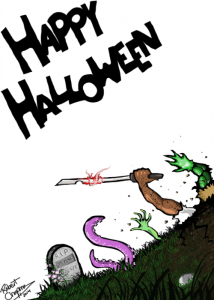 There we go. All finished. Ended up flipping it around and making it into a 5×7 Halloween card! Turned out pretty awesome. I love how much little details there are. Definitely learned a lot from doing this one. Techniques and stuff I should be using from here on out. Especially with Halloween next month. More monsters and such to come, I think.
I got an offer to do some Christmas cards/postcards in the near future! Pretty awesome. I think I'm going to stick to doing these 5×7 card sizes for awhile. I think they'll be a lot more marketable in familiar sizes. Makes sense.
EDIT: Maybe I'm not quite finished with this yet. I'm noticing some spots where I can make some improvements.