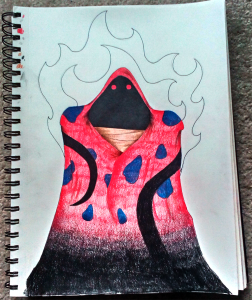 Hey there. I'm not finished with this guy yet, but it took me a couple hours to get as far as I did, and now I can finish it up tomorrow and not have to worry about trying to come up with something new to draw.
I really can't decide if I like this guy or not. I'm definitely going to have to get that bottom part of his cloak darker, and the red needs to be even redder so you don't see the coloring lines. Then obviously I need to do something with the fire. I'm thinking of inking the outside layer, then coloring the inside like green or yellow or something. Not sure!
Overall, he's pretty cool. It wasn't that bright outside, so he actually looks better on paper (what else is new?) rather than digital. But maybe tomorrow will be a sunnier day. (Oh yeah, NOW the sun comes out as I'm writing this)
I completely destroyed my black colored pencil. Sharpened it right down to nothing today. I really need to stick to ink for the black spots. Well, I don't really have much of a choice now as I don't really have much black left.
----------------------------------------------

Help support my creative habit by liking, sharing, or commenting on my posts! Visit me on the Facebooks! Or, if you like, click right here! to help support me and my creative habit financially. Any and all assistance is greatly appreciated! 🙂