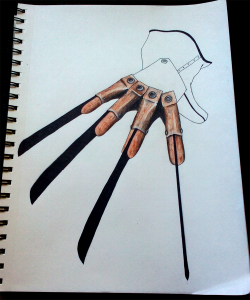 I'm starting to regret coloring in the blades, though it still looks decent enough. Honestly though, the main reason I colored in the blades is I made a few mistakes with the ink when I was adjusting the length of each blade. I pretty much had to color them in for it to look right.
Hey, what do you know, that actually does look a little like bronze where I colored there today. I'm surprised. It took a long time to do to get it to look this way. I'm happy with the results.
You know, when I look back at when I started over 75 days ago, I can really notice a difference in quality. Or maybe it's effort. I'm not really sure. Either way the drawings I post are noticeably increasing in overall quality. I definitely recommend to anyone out there that if they want to get better at doing anything, and this should go without saying, do it every day! Do what I'm doing, make it a challenge and do it every single day for a year.
----------------------------------------------

Help support my creative habit by liking, sharing, or commenting on my posts! Visit me on the Facebooks! Or, if you like, click right here! to help support me and my creative habit financially. Any and all assistance is greatly appreciated! 🙂