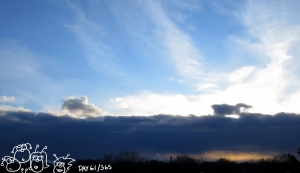 Yesterday I started a bit of a mini-project for the month of March, called "Meet the Maker". I've already noticed that a bunch of people are doing it, and even though we're only a single day in, it's really cool reading a little about these artists that I follow. That's going to be 31 days of posts about the artists involved in this project, all following a specific theme for the day. Pretty cool 🙂
Today's theme is "Favourite to Make"
I wonder if everyone is going to read these daily topics the same way? I'm taking this one as "What's your favorite thing to work on?"
Honestly, I don't have a favorite thing! I'm sitting here wracking my brain trying to figure out what I enjoy working on most, and sure there are things here and there that I enjoy making a little more than other things, but it's all subjective and it really depends on how I'm feeling at the moment. Sometimes I get working on something for several days in a row, and then I start feeling desperate to start a new project. You know, I just want to get into something exciting and fresh! I'm positive that everyone feels that way sometimes.
However, the very first thing that popped into my mind when I read what the topic for today was, were these little Weeblie guys that I draw so much. I've been drawing them since I was in like high-school or something. If not even before then! It's just something that I feel has always been a part of me. These little character guys that I draw, they represent all the various personalities, emotions, and people within myself, as well as in the world around me.
They could be how I'm feeling in that moment that I draw them, or they could be representing someone I met that day. There's no real rhyme or reason for why I draw them, they're honestly just created on a whim. I can kind of compare it to the bigger projects that I work on, Oftentimes I'm not consciously thinking about what I'm really doing. It's possibly just my experience and intuition that takes over and I've just equated it to a "possessed" feeling. Or at least I've written about it like that the past. One moment you start a project with a general idea, and then you get a bit lost in it at some point. Before you realize it, something gets your attention and you snap out of it only to find that several hours have passed, and you have something really cool in front of you. It's not always that dramatic, mind you, but I have had moments where I zoom out of a digital drawing I'm working on, and I get to see the whole image all together and I feel like I'm seeing it for the first time.
Anyways, I've probably created thousands upon thousands of these little Weeblie cartoon characters and left them on school desks, notebooks, and likely every bed post and bedroom wall that I've lived within. I don't give them much thought when I make them, and I've been doing it for likely more than 20 years. I bet I've left a little bit of a trail behind, leading up to where I currently reside in life. Kinda interesting when you think about it 🙂
----------------------------------------------

Help support my creative habit by liking, sharing, or commenting on my posts! Visit me on the Facebooks! Or, if you like, click right here! to help support me and my creative habit financially. Any and all assistance is greatly appreciated! 🙂