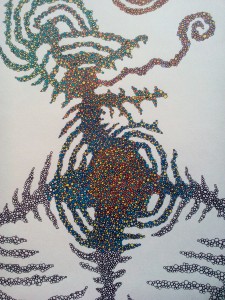 I name thee Dragnix! I think it'll take one more day to complete. The most difficult parts are behind me, I believe. Looking over the remaining spots to fill in, they're mostly all larger circles than those insanely tiny ones in the center that I worked on today. My wrist is killing me! At least it's looking pretty good.
I'm anxious to get my new laptop charging cable in the mail! There are a lot of things I want to look into but it's a bit of an inconvenience if I where to do it on my tablet. Either that or I'm procrastinating a bit. I'm not entirely sure. I want to look into some suggested websites where I can sell prints of my work. I've been set up on Deviantart for a few years now, but I always feel so outclassed by the art displayed on the front page. So I don't pay much attention to what goes on on that site.
Another thing I want to set up is a Facebook page for my artwork. Anyone think that would be a good idea? Is it annoying when people separate their personal Facebook page and their professional page? It's just something I've been thinking might possibly be a good idea. Not sure.